March 16th, 2008 by Mike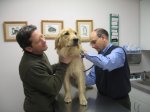 Today we had an early appointment at the Suffield Veterinary Hospital. The Southern Berkshire Golden Retriever Club was having its Spring: Eye, Heart, and Microchip Clinic. Our two breeding females Emma and Riley needed to have their eye exams updated, while Lucy was getting her eye and heart exams done for the first time.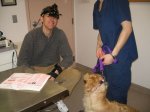 Thankfully everyone passed their tests. The clinic was controlled chaos as usual with multiple breeders bringing multiple goldens to be examined. I was only able to get a few photos of our Lucy getting her eyes and heart checked. We saw some beautiful animals, but taking photos of other breeder's animals is not proper etiquette when you don't know them.
Anyway, we all came back happy as everyone passed. Now we are just awaiting the arrival of Spring and the next heats.
PS: Don't worry about Lucy with her goofy eyes in this last photo. It's all because of the eye drops they use to dilate the pupils for an accurate exam.