August 21st, 2007 by Mike
We just received some very disappointing news from the Orthopedic Foundation of America this week. Our Solo has evidence of mild hip dysplasia. This report immediately disqualifies her from being a breeding mom. So we have sheduled her to be spayed in two weeks time.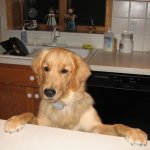 She will now join Lily as a best Aunt in watching our future litters arrive and grow. Despite our best efforts to maintain the genetics of our line using only top of the line breeding material, some characteristics occur due to random events and the polyfactorial nature of things. Solo's father was "Magic". Unfortunately he passed away soon after siring Solo, so further information is not available about any of his other offspring.
I feel disappointed for all those folks who have recently joined our waiting list. Our well thought out plans and two years of work for Solo to achieve her breeding pedigree have gone astray. And then we have the fact that Riley is overdue for her heat by about four weeks now. So mother nature has not been kind to us of late.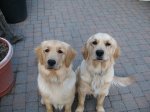 We still expect to breed Riley and then Emma with their heats, but I no longer feel as confident in our timetable. Of course if this breeding business was so easy, everyone would be doing it. It just makes our mission of getting these wonderful dogs into loving families a bit tougher.
Years ago when Barb and I weren't as knowledgable about the importance of genetics and family lines, we answered a local newspaper add for AKC golden puppies. We fell in love with a puppy that we named Molly. Great personality and looks, we were blessed with eleven years of fun and companionship. The last two or three years were tough on her though because of severe hip dysplasia that had become manifest at about one year of age. Having to help her walk everywhere for the last few years of life reinforces to me the importance from day one of knowing as much as you can about the breeding history of the parents. And not settling for an unknown puppy while hoping that the future will be sun filled and long lasting. It will not be.
If there is a silver lining to Solo's news, it is that her dysplasia is so mild that it will probably not be clinically apparent. That is the opinion of our vet who reviewed the films again himself and at first was wondering what disqualified her. I wonder also if the digital Xrays she had done are similar to high definition TV. Every blemish there shows due to the amazing resolution of the technology.
I feel a strong committment for all those people who have been waiting for a puppy. While my timetable may not be accurate, we still plan on having two litters when mother nature starts the heats of Riley and Emma. Both have passed all their clearances. Effective immediately, we have stopped accepting names of people wanting puppies. We have also removed ourselves from the search engines of the internet world. For those folks that recently joined our list, I would encourage you to visit the link on our website to Southern Berkshire Golden Retriever Club. Barbara Biewer, the president, is the person to email about available litters coming due. She is like the ultimate dog person and is involved in breeding, field trials, obedience, and running a very special golden retriever club.
---