March 10th, 2008 by Mike
We just received the winter issue of Golden Retriever News.
Just inside the front cover were a few more photos of Mulder and Berna with their amazing double win at the Nationals this past fall. I thought I would share these new photos with our readers.
Also listed and photographed were all the winners in the many other competition categories. Magnificent animals all. I would again encourage true enthusiasts of our breed to get a membership to the Golden Retriever Club of America which automatically qualifies you for a subscription to this National magazine.
There was one more photo included which spoke eloquently of Mulder's wholesome and humble spirit. Despite the severe demands of travel and the show ring, he remains just one happy fun loving dog.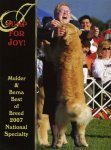 We are very proud of our own Emma's last litter when she was bred to Mulder. Dynamite personalities and Hollywood looks one and all. My cousin Ron and our neighbor Ken last week sent us updated photos of two of Mulder's daughters from this last litter. The third female in this litter was our own Lucy. They are approaching 15 months old now.
So here we present:
Ron and Barb's "Maggie"..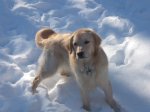 And Ken and Mary Ann's "Rosie"..
As we expect to use Mulder for both Riley's and Emma's upcoming heats this Spring, we have high hopes for more puppies blessed in looks and spirit.
---