March 11th, 2007 by Mike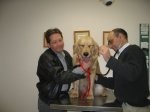 Today was a fun but hectic morning while we spent a few hours at the Suffield Veterinary Hospital. The Southern Berkshire Golden Retriever Club was having their Spring Conformation Testing Clinic. So breeders from all over the northeast brought their dogs, goldens all, for testing their eyes and hearts for any congenital problems.
We brought all five dogs for the ride. Lucy the pup is not used to the car yet, and she howled most of the way in her crate. She got her microchip placed by Dr. Anne Huntington, the vet that was responsible for helping our Emma conceive her. Solo and Riley had their hearts checked by the cardiology vet, Dr. Mark Stamoulis. Then Solo, Riley, and Emma got their eye clearances by the ophthalmology vet, Dr. Charles Stuhr. The eye exam took place in a darkened room so that couldn't be captured. Here are a few photos of Riley's heart check.
Everyone passed all their clearances so we all left very happy.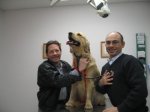 Barb also got to meet several golden breeders who are way more taken with this breed than I am. We were both enthralled if not disbelieving to listen to a couple from Torrington who have eleven goldens of both sexes. All these dogs live in their house. Like the Old Women in the Shoe story, there are many of us who can't seem to have just one golden.
Today we admired goldens of all colors and sizes, show dogs to hunting and field dogs. All beautiful in their own way. Of course their owners were just as varied in their ages, shapes, and sizes too. A most interesting morning.
Emma, Riley, Solo, and Lucy had a quiet moment in the kitchen after getting home and calming down after being exposed to so many of their own kind in a setting they haven't seen before.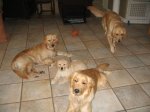 Next up will be the hip clearances for Riley and Solo. This will be done by a specialist vet in Rhode Island in April for Riley. Solo has to have her two year birthday in June and then she will follow with her hip testing. Riley and Solo will then be cleared for becoming moms later this year.
---