June 12th, 2012 by Mike
Life has been hectic and busy among the four footed and not so fleet two footed living here in Dogville. Gabby is now over 35 pounds and looks like a lanky colt. This first photo summarizes her activities of late..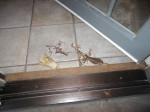 Chewing bones and destroying our plants whenever we are not looking. We have double and triple fences in some places trying to protect our flowers
They mostly work, until she really wants something and then she jumps over. sheesh.. Prison height fences don't add much attraction to our garden beds, but a necessary evil.
We have been busy getting our yard in order as usual. We had lots of storm damage to repair, and thankfully our nice young neighbor Graham has been helping us out as a very able handyman. Last Friday, I was off and Barb was out of state, so of course after working all day, Graham and I had to open the pool to the dogs and Gabby. A great time was had by all. And it appears Gabby will like to swim as 3 of our 4 older goldens already do.
The horseplay between Gabby and Rocky is full of growls and yips when Gabby pushes Rocky too hard. From the size of Rocky's teeth, you can see that a serious dog fight even among our usually well mannered goldens is no laughing matter.
And after all the activities of the day, a group nap is always nice for Barb and I to try and accomplish what we are really supposed to be doing that day.
And finally a few candid shots of Gabby in her daily routine of play, chew, eat, and schmoozing with her pack.
---