August 26th, 2012 by Mike
Here we are almost at Labor Day, and another beautiful, warm and sunny afternoon to enjoy. It goes without saying that the dogs have really enjoyed their summer runs. And Gabby at six and a half months of age now, is close in size to her older family members. The only thing that sets her apart, is her long beautiful tongue and shorter coat.
In July we were visited by a pair of ducks, and early this month a little larger than life character decided to chew on our neighbor, Theresa's bird feeders. Thankfully the dogs were inside at the time and didn't get a whiff of his/her scent. The barking would have been deafening I am sure.
Gabby has found her place on our couch like the rest of her siblings..
And another great end of summer activity, sunning on a lawnchair..
And today trying to get a good overall pose for Dodi her breeding mother..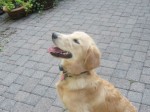 A happy puppy and a simple post that blends in well with the dog days of summer with the hint of fall in the evening air.
---