January 12th, 2008 by Mike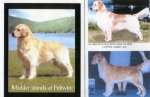 Regular readers of our stories here will be familiar with the name "Mulder". He is the amazing male Golden owned by Berna Welch of Pebwin Goldens. He is the father of our Emma's last litter and our own one year old, Lucy.
Mulder and Berna were recently honored with a two page spread in the Golden Retriever Club of America's national magazine, "Golden Retriever News". Mulder placed first in Best of Breed and Stud Dog of 2007 this fall at the Nationals.
I would highly recommend that all our dog owners consider joining the Golden Retriever Club of America. While the yearly fees are modest, you quickly realize from reading their magazine just how varied are the talents of our animals. I am humbled when I realize that what I know is a thimble full of information on just one small aspect of Golden Retrievers. When you look at the dedicated club members all over the country who run and participate in Field Trials, Obedience, and Agility Competitions, being a pet owner seems a very small accomplishment.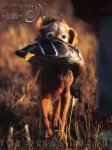 The "Nationals" are coming to Rhode Island this fall for a ten day extravaganza of judging, meetings, and lectures on our breed. This is like having the superbowl in your backyard with tickets that will be available to all. If you would like to see the best of the best across the country, then you should make an effort to attend. I, myself, will be going for the first time.
So what Mulder accomplished this fall is like being named the MVP of the superbowl. While he looks very distinguished and regal in his formal poses, I will remember him best as an affectionate big boy that I had the privilege to bring to Emma's insemination a year ago.
Our Lucy is losing her puppy looks and developing her father's distinguished bearing.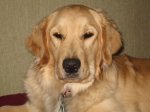 She also has her mother's quiet, calm personality, and we are hoping that she will be a proud mother in another year or so.
I showed her the magazine photos of her dad and she seemed suitably impressed. When she tried to brag about him to her half sister , Solo, Solo was more interested in tasting the magazine print. Just sister's jealousy I guess.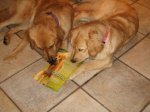 And finally, it is official. Emma is not pregnant. A formal ultrasound at our vet's office confirmed our suspicions. Our next breeding efforts will be this Spring with Riley's upcoming heat.
---