June 14th, 2009 by Mike
It has been an enjoyable week here in dogville, except for the rain! We have heard from many of our new puppy owners, and we beam with pride when we hear one of our furry little ones has slept through the night, or appears to be the smartest golden puppy that ever was. Of course every one is special just like every child. Here are the photos we received this week..
First, Fran reports that Charlie is doing very well. The former Mr. Blue, and the biggest pup in the litter still looks to become a big boy if his paws are any indication.
His older housemate Autumn seems to have adjusted very well to this little rascal.
Then we had some photos of Molly's Fenway (formerly Mr. Maroon) showing a taste for ears..
Gayle sent some photos of Cooper from Rocky's litter showing that not only our dogs love to sit on furniture, and spend time in the mud.
Barbara sent photos of her special Tyson from a few litters back. We are sorry to hear that she recently broke her foot in 4 places. We hope Tyson's golden hugs and licks will help ease her spirits if not the pain.
Cindy sent a photo of her enjoying quality time with her Kati.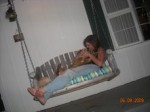 And of course, we are not partial to just Golden life, but new life in all its glory. So here are the new baby birds that Cindy now has in her yard. I do seem to remember her having three or four cats, so I hope everyone will get along..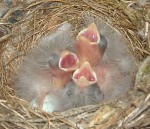 Now like the end of any long running television series, I am sure our fans expect an ending that leaves everyone breathless, speechless, and in anticipation of a sequel.. However real life is not quite like Hollywood. Barb and I are still tired, worn, and battered from the many challenges we have had to face in bringing this litter from conception to 8 weeks of life. My inner muse wants a long rest, and solitude. Barb  moved my wine making apparatus unbidden, back into the whelping area, so the ghosts and echoes of that empty space wouldn't bother her while she was doing her chores. That surprised me but reinforced that this chapter of our life is really over.
We have made many new friends, and we expect to keep in touch with many of them through the stories of their goldens that we hope they will share with us. Life will go on in dogville with our adult animals. Rocky will go to Italy in July now, and we will take Black's ashes to Vermont later this summer. I can envision other golden stories that will be written on the glass panes of our memories rather than on a computer screen.
I don't have an incredible photo to end this long running tale, but instead will leave you with a simple one involving a golden puppy, a hen, and a chick. (Barb I hope will not take offense to this photo..)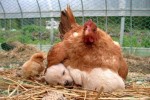 My mate and best friend, Barbara, has a heart of gold and a mothering capacity that is larger than life. She is the hen. Without her skills and attention, I could not do any of the adventures we have had breeding. I would say that I am the little chick… still looking for new quests in far away places, and never knowing what new path my interests will take. The golden pup.. the beginning of an amazing journey starting over 25 years ago with Peaches our first puppy, that grew and grew until we had to share with the world this amazing creature that a golden retriever is. A golden gift from God, pure of heart and spirit. I hope you have enjoyed our stories, and I hope this final photo made you smile rather than shed a tear.
God bless from all of us here in our little patch of Farmington. May blue skies follow your every golden adventure..