October 30th, 2012 by Mike
Hi Everyone, We hope all our friends and their golden companions are safe and sound after yesterday's hurricane. We were fortunate not to lose power here in Farmington like we normally do, but there are outages all around us. Over the weekend, Lexi, one of our former puppies came back home. Their owners called and said their family circumstances had changed, and they needed to return the dog. This has only happened a few times in the over ten years of breeding, but we are grateful when the owners call us as per their contract. We have no trouble finding another  forever home for one of our animals. So three and a half year old Lexi, who is the daughter of our mother Riley and  father Mulder of Westminster fame, has joined the family.
Here are some photos her prior owners shared with us..
She shared her prior home with a yorkie who had died last year, so coming into our large dog family was a bit of an adjustment for her. But just after two days, she ran with the pack, and now just has to find out how close the others will let her get to me while I am writing this..
Her former owners shaved her, so she now looks like a cross between a lab and a golden. At the fields today, she had a wondrous time, as I don't think she ever was able to run free like this.
The rest of the family is doing very well. Eight month old Gabby is as big as the rest now..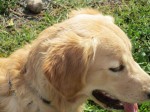 She still enjoys eating her greens and ignoring the garden fences as usual..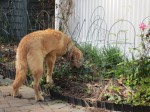 Here is Riley (on the right) mother of Lexi, walking beside Solo.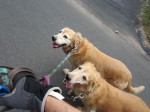 Then Rocky and Lucy round out our Golden family.
We already have a  special family interested in  adopting Lexi. This family has a seriously ill Lab at the moment, so we will keep her here for the short term. Lexi's mild temperament and attitude has made her addition here a special blessing instead of the chaos we thought would be the result of a sixth dog. Either that or Barb and I have just lost our minds and don't know it yet.. hah!
Wishing Golden smiles to all our readers and dog owners.