February 22nd, 2009 by Mike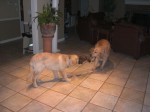 This week has continued the welcome trend to a more civilized existence for all here in our household. Everyone sleeps in the bedroom, and we have been averaging only one wee hour visit to the backyard now for the puppy. The pack's inner alarm clock is still set for 4:30 to 5 AM, but I get a lot of early work done before leaving for the office or hospital at 6:30 to 7 AM.
I was hoping to take all six to the high school this weekend in the truck (too many squirrels out already to walk them), and see how everyone fared running together for the first time. The rain today, instead of snow,  nixed that idea. Barb had bought some new stuffed animals for everyone to play with at Ocean State Job Lot. The buffalo bones and antler chews are more favored, but the cost is prohibitive to have frequent hand outs of these items. With the stuffed animals, there is a lot of competition and jealousy for the toy they don't have in their mouth at the moment. So you have to be watchful that tempers don't rise and a fight erupts. This day everyone was well behaved..
We are anxiously waiting for the necessary two more weeks to pass to see if Riley has conceived. As I was pulling the camera card to create this blog, I came across several new photos of Mulder, our champion stud, walking and playing with his son, Rocky. These were taken when Mulder was at our home three weeks ago.
Rocky is growing by inches in height and length every day. At a quick glance, he is sometimes hard to pick out from his sister Lucy of an earlier litter. Being the two youngest goldens here, they often pair up to play.
Here Barb caught Rocky in a more Halloween like moment the other night..
And finally for this week's news, Barb caught our dogs enjoying a new configuration in their napping on our leather chairs. Doesn't seem to matter that they are literally on top on each other at times!
Hoping everyone reading this finds time for a restorative nap this week!