September 29th, 2008 by Mike
Like a bushel of fall apples, a large basket of stories are just waiting to be written from the events of the past week here. Over the next few weeks, I will share with our readers just how unpredictable this "business" is, and show you why no one should be doing this work unless their love of the breed exceeds the many trials they will face. But first..
Just as important to us as the many smiles our dogs generate from the visitors to our home, is the recognition from the professionals that we use, that we are breeders to be recommended and respected.  We always look forward to seeing Dr. Steve Feldman of Animal General for that final "litter visit" and review. We packed all our little furry children into two crates and made the drive at the end of last week.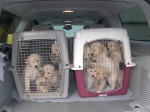 There is usually some mild chaos as the pups stretch their legs and explore the wealth of smells that surround them.
Then comes the moment where we beam with pride as Dr. Feldman makes his final comments. "Another wonderful litter and all healthy". The untold hours of work fade away as your efforts bound around the room with energy and affection. And many kudos back to Dr. Feldman and his wonderful staff. They all deserve special applause for their dedication and clinical acumen in caring for our many animals over the years. This final picture of the visit to our vet says it all about Steve's caring and commitment.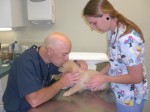 But along with all the happy moments, are those situations that are just the opposite that we must face and endure. Mother Nature always seems to exact its price in keeping the score even between a happy outcome and one not. And our clients are sometimes the sad recipients who must pay.
First was the family who long wished for a golden to add to their family. When they were notified of their place in line for a puppy, the husband went to get tested and unfortunately was diagnosed as allergic to dog dander. Next was 5 year old Carson, who used to come to my office to see my "dog photos" while his mother had her OB visits. I promised him when his parents decided the time was right, we would have a golden puppy for him. This summer the timing was right, and his sister and he enjoyed playing with the pups in our yard. The following day we were saddened to learn he had an asthma attack that prior evening, and the allergist painted a grim picture if a long haired dog entered the family. There is a hope he will outgrow this sensitivity, but for the family that had been planning on a golden puppy for the past three years, it was a crushing blow. And finally, we had a surgical emergency with one of the pups two days prior to the puppy leaving for its new home. We are saying our prayers for Mr. Black as he is fighting for his life in the ICU at Tufts Veterinary Hospital in Massachusetts. Our best wishes go out to Leslie and her family for their disappointment in waiting so long for a puppy, only to have seen their plans go horribly awry. We will keep everyone informed as we know more.