June 9th, 2008 by Mike
It has been quite the week! Hundreds of miles put on our trucks, hundreds of dollars spent on blood tests, gasoline, and vet bills, and thousands of dollars spent on stud fees. Today, Sunday, we are relaxing knowing that we have done virtually everything that could be done to maximize the likelihood of mother nature and mother science blessing us with two litters of golden pups this summer. Riley and Emma are both fine following their breeding adventures.
Riley had a natural breeding with Mulder, while Emma had a surgical insemination with Mulder's seed. Both had cycles proven optimal by serial progesterone blood tests. Now comes the hard part, waiting until we can see some puppy sacs on ultrasound. That will be possible in about three weeks for Riley, and four weeks for Emma.
Meanwhile, here locally in Dogville, Lucy continues to help me garden. She has taken to walking around with a ceramic frog in her mouth and deposits it in various places.
I still have lots of plants to get in the ground. Not a slouch in that regard, she lends a ready mouth. I turn around and the plant that was beside me is now in her mouth destined for parts unknown.
She is still only less than two years old and is loaded with energy and mischief.
Champion and big boy, Mulder came and spent three nights in our home. Barb brought him home from the Cape after he was bred naturally with our Riley. We then had to bring him and Emma to Suffield Vet Hospital and Dr. Ann Huntington for her to work her medical magic. What a gentle giant he is. Like having Brad Pitt in your home, all our young ladies were agog, and sat clustered outside his large cage like groupies.
It is said to be bad luck to show photos of the stud before knowing the results of his efforts. So all I can show you at this time is a photo of our females sniffing where he marked our yard.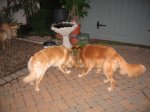 Having marked all the boundaries of our yard, I guess he now claims everything within it in dog language.
I will close with some amazing puppy news from Mulder's owner, Berna Welch of Pebwin Goldens. She bred three of her females recently expecting maybe one or two litters. Especially since one of the litters was bred with ten year old frozen semen from one of her prior champions. Well, all three litters came in, and the first one had Sixteen puppies in it. The other two litters had nine and ten puppies. Thirty five puppies in her home at one time is a blessing of life, while a burden of exceptionally hard work. It is a tribute to her and her husband Peter and their assistants, that all did well and have homes awaiting. When we were there this weekend, they still had eighteen left that weren't quite old enough to leave.
Holding those bundles of fluff, energy, and love brought a yearning that we will soon have our own pups to love for eight weeks, and then to make our very patient clients equally happy to take one home. Keep those positive thoughts and prayers coming our way!
---