July 10th, 2007 by Mike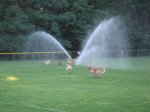 Today the dogs got me up extra early (4:30 AM). It was pointless trying to get back to sleep since when one starts stirring, the others follow suit. I got up and we made our way downstairs so Barb could finish out her needed rest. The day was going to be hot and sunny so I fed everyone right away. After an hour for them to digest, off we went to the high school fields once again. This was the first time we had been there before 6 AM. To my surprise and to the dog's happiness, the industrial sprinklers on the fields of green were going full blast. It didn't take a moment's hesitation before everyone with four feet was wet and soggy.
It was at this time that I noticed that Emma's coat and tail were finally filling back in after the stress of her last winter litter.
If you click on this flashback to the earlier post of Emma, you will see just how thin her tail and coat were a few months back. "The Tale of the Tails"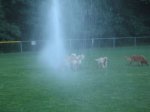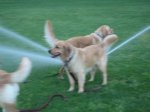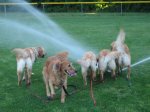 After the girls seemed to have had their fill of the water park, we made our way to the upper fields for our standard exercise run. By the time we finished there, the sprinklers had shut off. So we headed home for some rest and toweling off.