July 3rd, 2007 by Mike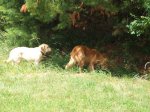 My cousin Ron and his Barbara are very good at showing their (our) goldens out in the wilder environments of Connecticut. Here they are at Mohawk Ski Resort in Cornwall, CT. You can really see the difference in our breeding results over the years with Sandy one of our early litters, and Maggie from our last.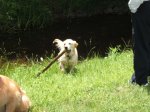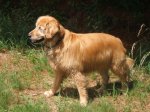 It is hard to believe that almost fifty years ago now, Ron and I used to share a tent together at a Boy Scout Camp that our grandfather was in charge of. Located in Hebron, CT, the area has long been developed into a suburb. Still those boyhood memories of good times when we were eight to ten years old are firmly fixed in my mind. If only our "pepere" had had a golden retriever for us to share our adventures with. That would have been really something. Right Ron?
This breed thrives on the outdoors and physical activity. The more varied and wild, the better the dogs like it. From swamp to stream, to your living room, they are very adaptable. They can find adventure anywhere.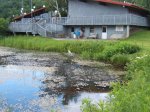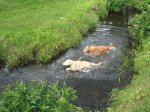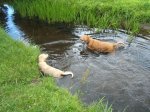 ---