July 6th, 2007 by Mike
With all the lawn and pool chores needed to get our yard respectable, I have fallen behind on some of my other hobbies. I have been making wine for about two and a half years now. The whelping box is an ideal place to keep all the supplies together and organized. But at the moment I have nine wines from all over the world ready to bottle, and we hope for Riley to start her mating heat any week now. So I have a backlog of wine making to catch up on. For the first time, today I enlisted my Barbara to help and we were able to get two wines done (sixty bottles).
Of course, I also had the company of Riley and Lucy. Little does Riley know that she will be spending quite a bit of quality time here down the road a few months.
Lucy visited her initial home for the first time since she came upstairs at eight weeks of age. She did quite a bit of sniffing around the box and found one of the puppy toys. She paraded around with it in her mouth for quite a while. I wonder how much of a memory she has of her early days…
Upstairs, when we were doing the shrink wrapping and labels, the girls all settled comfortably to watch from their usual group resting place.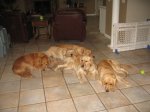 For all those new to our dog family, or awaiting a puppy, one benny is that you get along with your puppy, a bottle of red and a bottle of white to take home and celebrate your new dog. Here are some examples of our dog labels…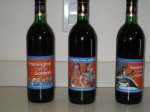 Still, seven wines to finish, I may have to start getting up earlier. With three litters planned, once the puppies start arriving there won't be any more time for wine making for quite a while.
---