June 19th, 2007 by Mike
Today was a spectacular morning for exercise and reflection. The high school fields have become one big blanket of sweet smelling clover.
The sun was coming up and you could see its rays of light reflecting off the mist from the overnight showers.
There was not another soul around, and it was peaceful and good.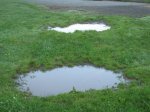 Of course with all the rain lately, the dog's private swimming holes were back. Now however, the ground is relatively dry. The mud is gone and the girls don't get as dirty.
We all came home physically tired, and for myself, spiritually refreshed.
And what better time on this beautiful morning, to annouce that our oldest son, Michael Jr., and his wife Emma called with the birth of their second son, Michael Alexander, at 8 AM this morning. Born in Washington, DC. at 8 pounds 12 ounces, everyone is doing well.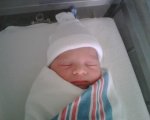 We give thanks for our blessings.