June 8th, 2007 by Mike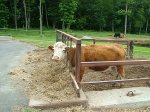 Last weekend I went to my sister Mary's home in Hebron. More like a Norman Rockwell farm than a home, she was having a graduation party for my niece, Morganne. My aunt Grace took some photos of Mary's animal friends and passed them along. Mary told me she wanted to add one of our puppies to her family next Spring.
I think you will agree that that is going to be one very lucky dog that joins her household. Shucks, if I could walk on all fours and grow a little chest fur, it would be a great place to retire to!
Back to reality again…
We've been trying to get our backyard in some kind of shape for visitors and enjoyment. Seems like every year it takes longer and longer before we achieve that moment. Due to the magic of chemistry, chlorine, and Barbara's unceasing efforts for the past two weeks, the pool is starting to look more inviting.
So far the dogs have listened to us saying no when they look longingly at the water. Not sure how many more hot days it will be before they decide to take a swim despite our no's. Probably waiting for Barb to say the water chemistry is perfect.
Of course Lucy is in the thick of things.
Always willing to help when I water.
PS. I think the computer program that sends out the posts had a hiccup last night. Not sure why it sent the mother's day post again. Sorry for the rerun. I hope this doesn't mean it has a virus or something! Will ask my website gods for an answer.
Have a nice weekend.
---