September 30th, 2007 by Mike
I still miss our original breeding golden, Abby, and wanted to do something in a positive way to keep her mischievous and loving spirit alive. The poem I wrote for this website allowed me to get past the grieving process of losing a special companion after those very special years together. See "Abby's Message". But it didn't seem enough of a legacy to reward her for her labors that have blossomed into our growing Farmington Valley Golden family.
For the past three years I have been making wine and learning the secrets behind all the hype. With a cellar full of wine behind me from grapes harvested from all over the world, many of you have been gifted with a few bottles of my latest concoction for one occasion or another. And all our wines are covered with our dog labels to reflect our true passion here. This weekend we will be unveiling our latest golden endeavor. I will be bottling a beer I have been fermenting in a vat in our basement. I became enamored of the taste of the most popular beer in the Domincan Republic during my mission trip last fall. Called "El Presidente" it is a light ale, with a mild taste and low alcohol content. Thanks to the investigative skills of my wine making expert and now good friend, Adrian, he was able to find a beer maker in Colorado who came up with the right combination of malt and hops. It is still amazing to me that with the internet and networking, you can find out the recipe for something from a third world country that is not widely known. We will shortly see how successful we are.
I hope to share this beer with family, friends, and visitors (of age) to our home over this upcoming holiday season. And what better way to honor our Abby than to grace this effort with her never forgotten smile. Celeste, my tireless graphic artist extraordinaire, has come through again and brought my humble ideas to life.
So I give you our label for Abby's Golden Ale.. (Click on the image to enlarge)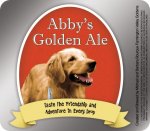 And the neck label we designed for the beer bottles also has special meaning. Although my cousin Ron's golden, Emma, has joined her mom on the other side of the Rainbow Bridge, the photo he took of her as a pup still is one of my favorites. See "Sad News". So I hope Ron and his Barb and family will be pleased to see her memory live on as well: a golden puppy with friendship and adventure on her mind.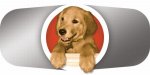 So I am looking forward to sharing with all our golden family and friends, Abby and Emma's "spirits". Hopefully we will raise a glass to them around the whelping box come mid December with a new litter of pups to brighter everyone's holiday mood. I can only hope that my brewing skills live up to the labels!!
---