October 25th, 2006 by Mike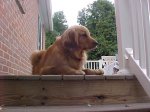 Yesterday Ron and Barb reported that they had lost their beloved Emma to kidney disease. Seven plus years old, she is the first offspring of our Abby's 27 pups to follow her over the "Rainbow Bridge". At least she will be immortalized here in our blog (Please also see the prior posting "Sisters and Best Friends").
However I will always remember her as the precocious puppy that Ron sent us a picture of soon after getting her from us. Here she is in that classic golden puppy pose… eyes bright, a golden smile on her face, and the world to explore and share.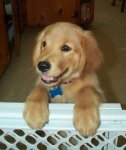 We have lost five dogs so far in our relatively short time of breeding goldens. It is never easy to say goodbye. It seems to me that dogs have only three seasons of life compared to our four. Their Spring and Summer years are obvious. It seems though that there is no Autumn. For most of them, a sudden illness occurs that manifests itself as a change in behavior or appetite. The diagnosis is made and then they are gone before you have even a chance to adjust to the harsh reality of their illness. Their Winter is a short fierce storm that leaves us lonely and hearbroken.
The only saving grace is that our animals have no awareness of their end. They live in the moment and that is enough for them. Would that we had that luxury sometimes.
Our deepest condolences go out to Ron and Barb and their family.
---