June 7th, 2009 by Mike
It seems much longer than a week since our first puppies left.
Having to worry about Black's health issues and his unexpected goodbye, aged our days this week immeasurably. Barb and I want to thank all those kind folks who sent their thoughts and sympathies. Although his stay on this earth was measured only in weeks, for those that met and held him, I have no doubt that his memory will remain in our hearts and minds for years if not forever.
On Monday, Miss Purple became Lexi and joined her new family.
She found someone there more her size (for awhile) to make friends with..
Also on Monday, Mr Maroon became Fenway, and became the third dog in his household.
We are very pleased that the transition has gone smoothly for everyone. We have gotten a few photos that we can share with everyone.
Betsy reports that "Abby" has made friends already with their much bigger "Bear".
She also enclosed a photo of "Bear" not too long ago when he was the pup to an older and very beautiful "Blue".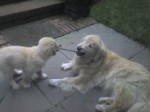 That circle of life wheel just seems to turn too quickly for my liking.
Our Riley is feeling well, and her wound has finally closed completely. I don't think she will miss having any more puppies, considering what she just lived through. Nope, been there, done that.
Rocky continues his digging ways and has corrupted Lucy who now follows him around on his misadventures. They managed to totally trash one garden bed, wiping out the hostas as if a tornado had gone through. I guess he wants to make sure that Barb and I will remember him once he leaves us for Italy. No chance of that happening with all the damage that is strewn around the woodwork on the inside of our house. Still I will miss him mightily when the time comes to say goodbye.
This damage usually occurs when Barb or I let the dogs out back to due their duty while we are busy with some other task. It doesn't take but two or three minutes for the young-uns to make a mess if left unattended.
It was a blue sky day, so the dogs enjoyed the sprinklers and then the small pool after their morning run.
You may think our Goldens have it good, but I can tell you some of our golden friends do have some amazing real estate they share with their dogs. Gayle recently sent us some photos of her two dogs Swimmer and Emma, sharing some good times with Cooper from our prior litter and his owner Sasha.
What an amazing living that must be with water of that size, right outside your back door!
She also sent us a photo of her three napping on the bed.
Golden people must think alike. Now I don't feel so unusual letting ours take a nap with me..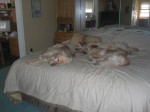 And to finish this post on a warm and happy note for a welcome change, we have Cindy to thank for sending a photo of her golden Kati with cat Walter enjoying each others company.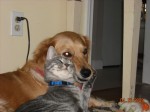 ---