April 12th, 2009 by Mike
It has been quite the week in dogville for all of us here. Like life in general, a smattering of good interspersed with other stuff, and the realization that we are truly not in control of this breeding adventure. The week started promising enough. A visit to Dr. Feldman the day after the whelping. Riley and the puppies checked out healthy.
The following day Riley's bleeding became heavier than we were used to so that raised some anxiety and another call to the vet. Then we noticed that Riley's nursing nipples weren't all protruding to the same degree, and there was some worry that the flattest two would not work properly and therefore be prone to infection. So off Barb went to WalMart for an electric breast pump. I guess there is a first time for everything! However, this device was not helpful. So manual massage became the order of the day with Barb and Theresa doing the lactation chores. Last litter our Emma developed a breast abscess that had to be surgically drained and her nursing stopped prematurely. So we were trying to avoid this at all costs.
The following day Riley had a GI upset that was helped with a chicken and rice diet that Barb specially cooked along with a pepcid tablet. The pups were gaining weight, and things seemed to be clicking. I was sleeping in short snatches in the basement overnight, broken up with checking out the puppy squeaks when a puppy lost track of her mom. (The pups can't see or hear for the first three weeks). Barb would replace me in the daytime, and we tagteamed it with the chores we both had to do. Fortunately, this birth coincided to the week Barb and I were both off from our real jobs.
Then Riley developed a fever that persisted throughout the day Saturday. Dogs' temp's are usually 101 plus, but Riley was up to 103+. The back nipples seemed to be working ok and the pups were feeding from them. We decided to bring her to the Avon animal ER last night. It turned out that she had an early mastitis starting in one of the front normal nipples. She was a good sport while being checked out.
Three hours later, after fluids and antibiotics, we were on our way back home minus a couple more hundreds of dollars in veterinary expenses. Thankfully, Brian and Theresa were home keeping an eye on the sleeping pups. The technology that allows instant photos being sent from phone to phone kept everyone in touch and on top of this latest misadventure.
When we got home though the real work began.. Barb and Theresa had to apply warm soaks to the infected breast gland, and try to keep the breast empty so an abscess wouldn't develop. The pups can still nurse, but not on that nipple. Sheesh. They came up with a novel solution.. Duct tape. I couldn't believe it, but it stayed on all night. Kudos to them both.
So this brings us up to this morning, with Barb in the basement doing Riley's breast care, and myself upstairs typing out this blog. Does anyone out there still envision themselves wanting to become a dog breeder? We just have to hope this antibiotic works. If not and we have to change it to one that the puppies can't nurse with, then we will have to bottle feed the pups. Yikes!
Now on to the rest of the week's happenings…
We had our first celebrity sighting. Theresa, our neighbor and dog midwife, was in Stop n Shop the day after the last dog post. She was approached by someone she didn't know, that recognized her from our last blog photo of Riley's whelping. Can a Hollywood TV spot be far behind? Hah! It turns out that the "stranger" was another golden friend, Laura, who walks her Daisy in our neighborhood. And thank you Laura for that delightful book that you gave Barb and I to read. It was the story of someone named Gary Paulsen who is an experienced Iditarod sled dog racer. Our problems pale to his adventures of having 70 to 80 dogs who are closer to wolves than huskies, and running hundreds of miles in nowhere land at temps of usually 40 below zero. Just amazing.
As for our anxious clients awaiting news of a puppy, the progress of notification goes slowly. We are still contacting folks who have been on the list over a year. Amazingly, most are still interested. We have two dogs still to be placed. I really feel badly for my patients, friends, and neighbors that were hoping to hear good news, but have been on the list less than a year. A litter of six just does not go very far. I will contact all of you who have filled out applications, once all the pups have been placed, to see if you would like my help in getting a beautiful puppy from one of our close breeding friends.
Rocky, our mischievous male puppy from our last litter continues his chewing ways. Our son Michael will not be ready to accept him back in Italy for a couple more months. So he is learning the pack behavior rules and leaving his teeth marks everywhere. We only have limited energy to keep tabs on him with all the other goings on here and it shows. Despite an abundance of tennis balls, bones and toys of various kinds strewn all about, he has his own ideas of taste. From digging holes to furniture to yard tools, he samples them all.
While the big dogs watch me start the yard work, Rocky is in constant motion.
All was mostly forgiven, when Rocky spied his first butterfly of the year. The look in his eyes was priceless.. I just couldn't snap the photo fast enough!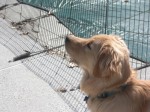 He has enjoyed learning to ride in the truck when I go to do office paperwork on weekends.
I am going to miss him mightily when the time comes to say goodbye. However, he has a family to train, with our two little grandsons, who he must teach to enjoy the simple adventures in life while growing up.
So we finish this week, more than a little tired and even more discouraged. Barb has taken to writing down her frustrations so she will be able to remind me of them when we may think of breeding again in a year or so. I was out back trying to start the garden and yard work for the coming summer. Each year it gets harder to begin and the work seems to grow larger in my mind. A sure sign of getting older I think . Then when I came in to do this blog, the screen saver on my computer put it all in perspective. My guardian angel must be reminding me to begin with the end in mind. I went out again, snapped a few photos..
Here is what was on my computer screen saver. Our yard mid summer last year..
And now when I think of the children of all ages who will soon be coming to visit their puppies, my spirits have suddenly lifted into blue skies again.
---