March 30th, 2009 by Mike
We are down to about 10 days of waiting now for Riley's labor. Preparations here are on schedule.
For those patient clients of ours, here is the summary of events: After Riley gives birth, we will email the families that are on the list in order of their applications. This will be done as soon as time allows after the births; hopefully, within a few days. We have to wait and see how many boys and girls we are blessed with, along with the health of everyone. If you are offered a puppy, there will be a nonrefundable 100$ deposit that is due immediately. The price of a puppy is 1300.$ plus 6% CT Sales Tax. The balance of the fee is due when you pick up the dog to take home.
Everyone on the final list will be allowed to visit at the three week mark and begin to choose their first three choices by the color of the collar. At seven weeks, temperament testing will be done by one of our breeding friends, and then the assignments will be made. Most families get their top choices unless we are concerned over an overly energetic puppy for instance with an inexperienced golden owner. The litter is usually very uniform in color and size and disposition, as that is what we are selectively breeding for. If we have clients that are left without a puppy, Barb and I will make every attempt to find them a great dog with an upcoming litter from one of our breeding friends. Riley is scheduled for an XRay this Tuesday to get an idea of about how many she is carrying. By Connecticut State law, no puppy can go to their new home until 8 weeks old.
This weekend we started to get Riley ready. First up was a bath. As you can see from the first photo, she wasn't too thrilled when I called her downstairs and she saw the bathing materials.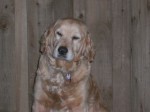 She was a good sport however, and managed to climb into the tub without any assistance.
After a little toweling off, it was time for some quiet time in the whelping box. This is her first litter so she wasn't too interested in  sitting on the linoleum squares with nothing to do.
Then it was upstairs to join the rest of the crew while I sat at the kitchen island and did some paperwork. Of course, I had a few girls at my feet…
And Rocky is never too far away from my side..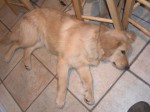 Riley was stretched out with the others in the middle of the floor while her coat dried.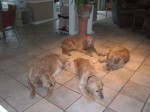 You can easily see how much she has filled out when lying near Solo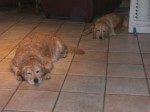 And her side profile is pretty impressive as well.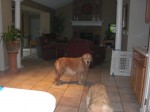 Wishing everyone a great upcoming week.
---