February 1st, 2009 by Mike
Well it has been quite a week and quite the day today. Three of our dogs are now in heat.. Emma, Riley, and Lucy. Despite the added mess, it has been several days without a dog fight. It seems now that their cycles have arrived, their tempers have fallen. A very nice change. We have been taking Riley for her progesterone levels. She is now at 2.7. She needs to be over five before her insemination can be done. Barb will bring her again tomorrow for another hormone level check. Riley has been a very good sport at the Veterinary clinic. Always smiling..
We hope the surgical insemination will occur about midweek. Just about the same time as the next storm!
With the arrival of Lucy's heat we will have to postpone her hip Xrays for a month. Estrogen has been known to cause ligament relaxation, and so the word on the street is not to take any XRays with a heat in progress. This XRay is all important for Lucy's breeding career, and so we will wait. Here is Lucy relaxing on a bed with Rocky.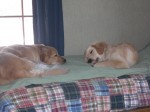 This morning we went to Cape Cod to pick up Mulder the lion hearted champion from Berna and Peter.
We had a very nice chat before the return trip from our mentors and friends. Mulder is nine years old, and spends his time now romancing the fairer sex. When we brought him inside our home, the smells of our three receptive females definitely caught his attention. Rocky got to see his father for the first time, and he accompanied him around the backyard. I don't know if he was paying attention as he watched his dad mark our backyard by urinating at the boundaries. Rocky has an all important appointment at the vet in the AM to be neutered.
By doing the surgical insemination, we are placing our money and hopes not on chance this time, but science. Barb and I have both agreed that 7 Goldens with three in heat and two who are intact males is a little much for our mental health.
To top off the excitement and overwhelming number of dogs here at the moment, my main computer failed last night. I use that one to process the photos, and run the blog as it has the fastest processor. So this blog is short on photos along with my patience.
Luckily one of our neighbors, friend, and client, Ken had sent us a week ago or so some photos of his Rosie showing her skills with Arctic Frisbee. I have never done this sport, but it appears that Rosie really loves it. I will add Ken's comments after the photos, so if anyone wants to try this, they will have the basic rules..
"Mike –
Thought you might enjoy seeing how Rosie (Lucy's sister) enjoys this cold weather. She truly thrives on playing frisbee.  As soon as you say that word her ears perk up and she dashes for the back door.  Autumn (Rocky's sister) is learning quckly too – – but will need a little more practice before she can leap and catch the frisbee like Rosie in mid-flight.  It's fascinating to see just how strong the retrieving instinct is in these dogs.  When I noticed just how high Rosie was leaping to catch the frisbee I checked with Dr. Feldman to be sure I wasn't challenging her hips or legs. He gave me his blessing.  If you should ever use any of these pictures on your blog please point out the importance of not throwing a frisbee at a dog to play catch.  There is even a warning on the package. As you can see – – we throw the frisbee away from Rosie and let her chase after it.  She actually out runs it and then leaps to catch it.  About 15 – 20 minutes of this workout and the girls are ready for a nap !
Ken Muccino"
Here is Autumn learning from her bigger sister..
So this upcoming week Barb and I will again be focused on "everything golden". We hope these dedicated efforts will pay off in the near future for our very patient waiting clients.
---