January 26th, 2009 by Mike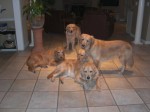 It has been more than a trying week here in dogville. We now have Emma and Riley in heat, along with Rocky, a non neutered male pup getting his first smells of the fairer sex. Our two year old Lucy is no longer passive, and instigates these riots at times. She is due for her own heat very soon. Our dogs are blessed in that they have free reign of our home, and only go in their crates for time outs and to sleep. However, that closeness has turned into quite a burden this week for Barb and me. The added testosterone seems to have hightened everyone's tempers and attitudes. We are averaging about two dog fights a day now. They can erupt at any time without warning. Everyone is napping at our feet and then suddenly, a cross eyed glance, and chaos erupts. The cold weather isn't helping as you can only let the girls out for so long. Sheesh.
The good news is that Riley's long awaited heat has arrived. Preparations are underway for her surgical insemination when she ovulates. We have our first appointment with the Suffield veterinary clinic tomorrow. Dr. Huntington there specializes in canine infertility.  We will do a series of progesterone levels to time her ovulation. Berna Welch of Pebwin Goldens gave us the good news that her champion stud, Mulder, is available and ready. Soon we will be making the three+ hour trip each way to pick up Mulder and bring him to Suffield for his part in these proceedings. We will keep everyone appraised of Riley's progress as we move forward.
Our son, Michael, sent us an email from Florence where he is now working. It seems that a sportswriter for ESPN just lost his beloved golden and wrote a compelling story. Please see this link if you are interested: http://sports.espn.go.com/espn/page2/story?page=simmons/090122. Be prepared to shed a few tears.
On a closer note, I would like to acknowledge the loss of a great neighborhood golden named "Bo". Despite his valiant efforts including the loss of a limb, a cure was not to be. We send our golden prayers and condolences to his family.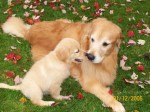 We are thankful that one of our pups from Emma's last litter was there to make his last few months more enjoyable.
I do not want to have this blog totally filled with sadness, so I will change gears and celebrate some of the life and times of our animals. Just as our blog readers have followed and enjoyed the goings on of our dogs, Barb and I get to hear and see the stories unfolding of our friend's, client's, and patient's animals. Here are a few of them..
Lisa recently sent us a photo of her new golden puppy sitting in the recycle basket calm as can be.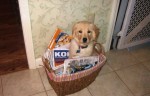 Cindy continues to amaze us with the antics of her golden Kati and her feline sidekick Walter. From holding hands to napping in unusual poses, they are quite the pair.
One of the latest stories is from Teresa, a nurse in the Delivery Room. The other night on call she was sharing with me the interplay of her 9 year old 98 pound golden "Chance" with their newest family member. "Molly", is a three month old Irish Jack Russell. Teresa has horses and needed a better mouser than Chance. I will let the photos speak for themselves..
Don't worry about the teeth. I am told it was just pretend.. The proof: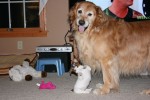 The bow they both took at the end of this sequence. This shot is an award winner somewhere!
And notice Molly's coat. An unusual color and texture, typical of the Jack Russells from Ireland.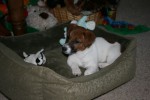 Jessica has been sending us photos of her beautiful Dobie "Hannah". Unfortunately she has been having serious orthopedic issues, and has fought through a number of surgeries with no end in sight. We will say prayers for Hannah as well.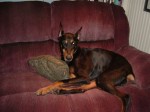 On a different topic.. On a prior blog in the midst of another storm I wondered about dog sledding. I googled the topic and got caught up in some amazing websites of personal quests and adventure. It was the next day that I went into one of my offices and saw some new photos from my partner Maria. There she was having her own dog sledding adventure with her mixed husky. She actually had gone north and taken some lessons about cross country skiing with her husky helping her along. I just had to share them with you..
Boy that looks like fun. There just aren't enough hours in the day though for some of us to sample all of life's adventures..
Finally, I have to announce that Rocky our special little puppy, and golden to our son Michael's family, has lost his claim to being the "perfect puppy". Barb claims it is due to the corrupting influence of the pack. I think he is just showing his youthful curiosity and teething stage. In the space of about ten minutes this morning, I found evidence of his presence or caught him in the act.
From paper to rugs to wood, everything seems edible to him!
It is hard to stay angry though when the dust and energy finally settles. Then the goldens look angelic and very very cute.
Who would guess from these poses of Rocky and Lucy that they have any devil in them?
Have a great week!
---