December 13th, 2008 by Mike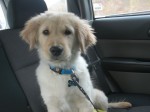 Our oldest son, Michael Jr., lives in Maryland with Emma and their two sons, Ethan and Alex. He recently learned he was being promoted and also being transferred to Italy for a few years. As grandparents, you feel more than a little tug on your heartstrings when your children and grandchildren move farther away rather than closer. Mike Jr. called us Sunday night and told us about their preparations to visit Florence for two weeks to find a place to live. Rocky didn't have a place to stay yet, as he had not had his bordetella shot which is required for a kennel visit. (For those of our readers who are new to our dog family, Rocky is a very special boy who had emergency bowel surgery the one day before he was to join his new family. We ended up keeping him an extra month to recover, and then he joined our son's family.) I happened to have Monday off, so Barb and Mike Jr. came up with  a wild plan to fly down there early the next morning and then drive Rocky home to us.
So we got up at 4:00 AM, got our Goldens here situated, and then headed to the airport.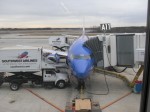 A quick flight on Southwest, a rental car pickup, and then we were there. I hadn't seen our grandsons in months so this was really special for me. Barb had been able to take some solo trips but I always had conflicts. We brought Christmas presents for everyone as we wouldn't be seeing them on the holiday. What started as a whim, turned out to be a very enjoyable day for everyone.
The biggest hit for the little ones were the snow globes that security at the airport payed extra special attention to..
Rocky was thriving and looking great.
All too soon though, it was time to say goodbye and head back for the long ride home.
Rocky did great in the car once his lunch came up on the back seat. It was my fault that we fed him an hour before we left. The ride home took about six hours with Barb and I switching driving every so often. Getting home that evening, our son Brian introduced Rocky to the pack.
A very full day, but one of very happy memories on multiple levels. And it all occurred because of a crazy idea that we should be exceptional granddogparents, and take care of our special boy once again!
PS: Since Mike JR. will be in Italy another week, I want to reassure him when he checks his email that Rocky is doing ok with the bigger girls. So here is a photo of him scoping out his former whelping box home. This area is once again turned into my little brewery where holiday wine and beer is fermenting. I wonder what thoughts and smells he has of that special place.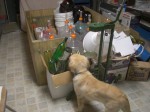 And finally, here is Rocky with his place among the pack. At the back of course since he is at the bottom of the pecking order.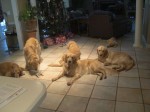 PS: We are still waiting on our Riley's next heat. These events are very unpredictable. We thought November or December would be the window of opportunity. Still we are only half way through December. Riley herself doesn't appear too worried.. She lives very fully in the moment.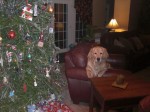 ---