December 7th, 2008 by Mike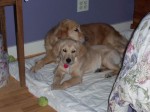 Thanksgiving Day I spent 24 hours on call at the hospital. I was certainly not alone, but shared the day with a lot of other hard working professionals. Health issues never recognize a holiday. One of those people was Dr. Gwen, one of my favorite anesthesiologists. She has done Thanksgiving on call for years so her partners can share their holiday with their family members. More amazingly, I discovered that also for years she has brought the OR staff a Thanksgiving dinner complete with turkey and all the fixings. Our paths that day crossed a number of times between the delivery room and operating rooms. Mothers that needed epidurals, and/or Cesarean sections, and gyn patients that required emergency surgery. And I was just one kind of specialist that needed her and her team's skills. There were traumas, codes, and orthopedic and general surgery cases that she had to supervise.
It was about 4 AM the next morning when we were both tired after finishing another emergency delivery. We had a few moments to ourselves so I asked her what she was going to do when her shift ended. She said she had another family tradition that occurred the day after her Thanksgiving call. She would take her family to New York for the weekend and enjoy time together at a show and restaurant. Thankfully, she had learned through the years that she needed to hire a driver to take everyone safely there, and could get at least a couple of hours of sleep before her weekend started.
Now why is she the topic of this golden blog?  Well, she has one of our puppies from Emma's last litter.   I was curious where the little guy, Cooper,  would be staying for the weekend.. Turns out he was to sleep over at Gayle's house, a fabulous place with acres of land and a large pond. Even better was the company that Gayle's two golden's Emmy and Swimmer would be for him. So after the weekend was over, Gayle was nice enough to share with us the happenings at her home.
Gayle has invisible fence around her pond, and turns it on when the weather turns wintry. That seems like a great idea since the pond is right outside her back door. Notice the pond outside the window in this picture of Cooper pulling on Emmy's ear.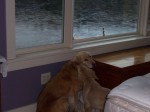 Here is the last picture, Cooper tuckered out but very content napping with his plush toy.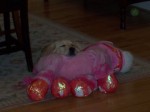 Seems that Cooper enjoyed his weekend just as much as Dr. Gwen's well deserved time off.
---