November 23rd, 2008 by Mike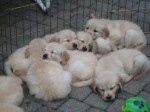 It seems very appropriate with it being Thanksgiving week, to look back on our most recent litter and share some of the heartwarming moments that ended our last adventure. At that time Barb was with puppy Rocky at Tufts Vet Hospital, and I was out of state for a long planned neighborhood guy's weekend away. So our son Brian and a number of our great neighbors stepped in and helped give away the puppies to their new families.
They all did a fantastic job of it, and even managed to capture the happy faces as they took their new family members home.
Barb and I then saw the last few pups leave the following day.
The really neat thing about our last two families was that Lisa and Suzy were college roommates. They have kept close while raising their families, and they each have had two of our dogs now. While Barb and I knew that the house was going to be very quiet when the last two pups left, we had a lot of fun with everyone at the end. Even mother Emma was able to share in some last minute play with her offspring.
We still had those pangs of emptiness, but since we still had Rocky to nurse back to health, it wasn't as bad as usual..
And finally, I did promise a few folks who came to visit, their moment in the glare of the internet lights, so here is everyone (I think), who came at the end of our last litter days for their puppy hugs and photos.
In closing, Barb and I wish much Thanksgiving happiness to all our readers, friends, and puppy owners. With the number of very happy smiles in this blog alone, you can see why we feel blessed for the opportunity to do what we do for our favorite animals and their owners. Like mission work, you really do gain much in return when giving of your time and energy to others.
---