October 18th, 2008 by Mike
It wasn't so long ago that two of our clients and golden friends were debating whether to add a new puppy for companionship to their beloved ailing older golden. There are no real rules, but the reality is that just as we irresistibly are drawn to that puppy smile and energy, so are our canine brethren. So young "Rosie" from our 12/2006 litter went to be a friend to aging "Holly". From the photographs you can see it was a winning combination.
Even at the end when Holly was ailing, I am told, Rosie wouldn't leave her side.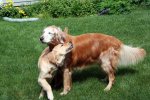 So when our last litter arrived, Ken and Mary Ann were  wondering how "Rosie" would do as the now older mature leader in the household. Would she accept a younger companion in a definite reversal of roles. I will let you all be the judge…
Both Rosie and Autumn have the same mother and father (Emma and Mulder). With only a year and a half or so in difference in age, they should look very similar when Autumn is full grown.
I would like to give Ken kudos for his fabulous photographs. I am self taught, and use a very small digital camera so I can have it with me at all times. When Ken sent me this last photo, I finally knew why the resolution of his photos was so much better than what I have been getting. He has a cannon (not Canon) for a camera!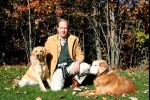 Thank you Ken for your help with adding so much life and color to our blog! You have captured the spirit and pure essence of our dogs so well.
Two houses down from us another of our puppies is finding companionship with an older buddy. Lion-like "Bo" has had his domain invaded by little "Minnie". Bo has only three legs now following his battle with cancer. His spirits seem soothed by the presence of this little ball of love.
Thank you for your photos Barb. I just noticed though the date is off on your camera screen.
Another of our puppies has landed in a family with much younger folks. "Lola" is not quite sure what to make of sharing her space with a larger Niko..
But I am sure she will find plenty of excitement going forward.
Thank you for sharing Shayna. Lola is the first golden yellow jacket I have ever seen.
Then we are back to dog ville here and the last week of "Rocky" before he travels south to be with my son's family. Our pack is more accepting of him now, but they can be an intimidating bunch. His convalescence with us helped Emma adjust to the loss of her pups. And that is the lemonade from his lemon of a surgical adventure.
---