September 14th, 2008 by Mike
The last few days have been frenetic with visitors, website upgrades, more visitors, and puppy travels. I will try to give everyone a synopsis of what we have all been up to in this past week…
First the big news! Emma got to reunite with her family today. Off antibiotics for 24 hours now, her milk supply has dried up with medication, and it is safe for her to be with her pups again. A very long two+ weeks of recovery, she wasted no time getting reacquainted.
The change in her demeanor is so heartwarming. She is content again. That last photo says it all!
We've had lots of visitors to the whelping box in the last two weeks, but with the upgrade changes to the website, I had to learn some new steps to doing this blog. I finally have the know how thanks to Dana Rockel of our website team.
So here are many of our initial visitors, family, clients, friends.. If you don't see your photo here, it is only because the shot did not do you justice for the world to see.
Friday was a special treat for me. After I got home from call, I picked up Mr Red and Miss Silver and we visited my offices and the hospital. The nurses on the various floors where I work knew I was coming all week, and the excitement was palpable. The puppies were just their simple selves, but just look closely at some of these photos to see how much happiness people inhaled from their hugs and kisses. Amazing! And that is what keeps Barb and I doing this work… So much goodness for such a small price of time and work.
All my medical friends in the above photos have seen life in its full spectrum of colors. From the darkest blacks to the brightest blues. They know how hard the daily struggle of this life is, and how short a time we are given to make a difference. Many of these folks are golden owners themselves, and have experienced the extreme sadness of a beloved companion passing. That is why I felt this visit to the hospital was so important. To bring healing to the healers. It became almost a mystical experience..
Now on to today.. We started the day like any other day we expect visitors: up by 5:30 AM, breakfast for all, and then baths.
Then it was outside for the first time for this litter. The back patio made a nice enclosure for the pups and all the visitors today.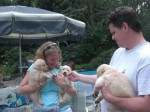 And the day still wasn't over. My cousin Ron and his wife Barb always come over to see our litters. They are special to us for more than our bloodlines. They have had faith in our breeding efforts from the start. Their first golden, Emma,  from our very first litter, has passed away.  Sandy and Maggie though, were in fine form for their visit today.
Our big girls are very territorial so we left them in the house. They managed though to crowd around the window watching…
We let Lucy out to see if she remembered her litter mate, Maggie.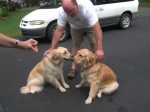 Sadly enough, dogs do not have long memories for that sort of thing. They may know their masters forever, but not their kin.
Now it is evening and the pups are back in their whelping box resting. This has been an extra long bit of story telling. I have now caught up with the goings on here. Tomorrow brings another day full of different families coming to visit. You can see how this breeding business takes over your whole life for the span of eight weeks. Still, if I count the number of smiles that we brought to young and not so young this week, it would far exceed the number of minutes that it took me to put this together tonight.
I will leave everyone with the picture that Claudia brought for Barbara today. She is five years young and wanted to give Mrs. Bourque her rendition of the whelping box and our puppies after her visit the other day..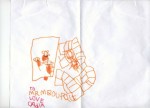 Priceless..         Thank you, Claudia, for your gift to us.
Goodnight and puppy hugs to all.
---