July 21st, 2008 by Mike
While we await the birth of a new litter of pups in early August, the wheel of life continues to turn for the rest of us and our animals. About 2/3's of the folks on our waiting list are those who have lost a departed canine companion and friend. We get photos from our friends who come upon an old picture, and send it along with their remembrances of a family member too soon gone. And although I see life and death in many forms every day, most people see little of my world, and may only bump against the true reality of our short existences when their beloved pet passes.
Our friend Ken recently sent us a few more photos of their first golden Holly who died this Spring.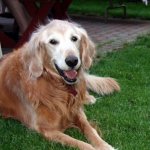 I recently came across a poem that seemed appropriate, author unknown.
"I Stood By Your Bed Last Night"
'I stood by your bed last night, I came to have a peek. I could see that you were crying. You found it hard to sleep.
I whined to you softly as you brushed away a tear, It's me, I haven't left you, I'm well, I'm fine, I'm here.
You lay there very quietly, then smiled, I think you knew, In the stillness of the evening, I was very close to you.
And when the time is right to cross the brief divide, I'll rush across to greet you and we'll stand side by side.
I have so many things to show you, there is so much for you to see. Be patient, live your journey out… then come home to be with me.'
It is nice to daydream that somehow and somewhere we will all meet again, whether as spirits or particles of knowing cosmic energy. Like fireflies perhaps, we may soar on night's breeze, intermingle, and, share the company of the universe.
More troubling to me this week was the number of people who came up to me at the office and hospital, asking if I could help them place their beloved dog, cat, or rabbit. Tough economic times are forcing folks young and old to move, and sometimes their new home doesn't allow for their pet to accompany them. While some people can discard a longtime companion with little regret, the pain involved for most owners is terrible to witness.
One of our breeding friends sent us this moving video that was on YouTube. My family has already seen it, but for our readers, this speaks to the deep bond that forms between animals and mankind when love is the glue..
Click on this link and be sure your sound is on: http://videos.komando.com/2008/06/26/christian-the-lion/
Parting with a dedicated living companion (even one the size of a lion) is one of those experiences I hope to never have. The sense of loss and confusion in the mind of the animal must be equally unsettling.
---