July 13th, 2008 by Mike
This week we got a congratulations card on our upcoming litter from Janet and Andy and their golden Logan. (Just ignore the broken middle finger please).
This got Barb and I thinking that there was not too much time left before Emma's due date of 8/08/2008. So like any excited parents or grandparents to be, we got started on cleaning and rearranging the whelping box area.
First to go was all my wine and beer making equipment.
Multiple trips to the pool shed, and I had a new place to develop cool summer drinks through better chemistry.
Then we had to pull up the old linoleum, bleach the floor, and let everything dry.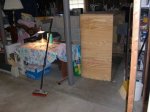 Next we put down new linoleum…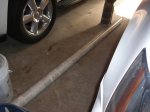 Then we placed another layer of tiles on the whelping box floor and then put the box together again.
Barb repainted the wall where we keep the white board with key information, and the room was done!
Our nursery is now sanitized, easy to clean, and ready for puppies and company. A lot of work as usual but at the same time it is very satisfying to know that Emma is over half way along with her pregnancy.
---