June 2nd, 2008 by Mike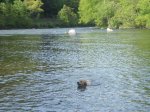 Barb and I are busy with Riley and Emma's heats/breedings this week. So I thought to digress and show some collected photos of Sandy and Maggie, former puppies here who live with my cousin Ron and his Barbara. They take their dogs to woodlands, lakes, oceans, and rivers. True adventures compared to our little outings to the local high school.
I've thought of bringing our group to one of the many shallow streams that meander through the woods in Vermont. But with five, if even one sees something and sounds the hunt alert, I could lose all five. Not worth the risk. So we will continue to live the big time adventures through Ron's dogs.
These photos were taken just a week ago…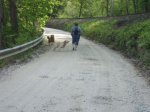 Home again, Maggie rests at Ron's feet literally. Notice her green paws from the river bed algae.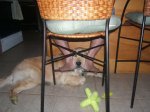 An adventure truly enjoyed. Thanks for the photos Ron and Barb!
Now back here in Dogville, Berna of Pebwin Goldens reports that our Riley had a successful tie with Mulder on Saturday night. She relayed the story that just as the dogs were introduced, they lost power. Not to be deterred, they brought out some candles and flashlights and the union occurred. And who said romance was dead..
Emma's progesterone levels are starting to rise, so we expect to bring her and Mulder to our special vet by the end of this week.
---