May 18th, 2008 by Mike
Recently, Barb and I have received some very moving email letters from clients, readers of our blog, and just plain golden lovers. I thought that their comments were worth sharing with everyone. They deal with love and loss and living in the moment.
From Bob: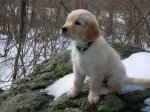 "I hope all is well with the Bourque Family. It's been almost one year since I took Rusty home. Rusty is doing well and we love him dearly. My dad was battling cancer and was very sick most of the year. Frequently, I would take Rusty to my parent's home to spend the day. My dad always looked forward to Rusty's arrival. Whenever I would show up at my parents to visit and Rusty wasn't with me, the first thing my dad would say was 'Where's Rusty.' He loved to play with Rusty and Rusty loved being with my dad. Whenever Rusty went to my parent's, as soon as he was inside, he would run to find my dad. My dad passed away in October. The time Rusty spent with my dad brought him great joy and helped ease his suffering. For that I am eternally grateful. You bring joy and peace into many people's lives, more than you know, through your Goldens. God bless you!"
From Ken: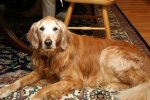 "Your latest blog about Holly touched me in a special way. (See "A Family Grieves"). Mary Ann and I and our kids all appreciate the time you spent assembling such a lovely tribute to Holly. Being the loss of our very first dog, we were all unprepared for how much of an impact it would have on all of us. At the same time I could never have anticipated the outreach we have received from fellow pet owners like yourselves. Just tonight our neighbors brought a bundle of homemade cookies (human ones shaped as dog bones)! and a card. Only now will I be able to truly understand what another person is experiencing when they say goodbye to their pet. Even after a week it is still strange preparing only one bowl of food, or loading only one dog into the car. As much as I know that Goldens thrive on human companionship, Rosie and Holly have shown us how important canine companionship is to them as well. We are going to be very careful to find a good match for Miss Purple! Again, thank you for that wonderful surprise on your blog… and for being such caring friends."
From Michele,
"Hello, I love your website, it is so nicely done.. but of course it is your Goldens that really caught my eye. They are so beautiful. My husband and I recently lost our golden and I had no idea how quiet and empty the house would seem without her. She was medium sized, about sixty pounds, but her heart filled this whole house, and we miss her. We would like to get another puppy, not right away, but sometime in the future. From your website, I could see that your love for the dogs is the reason you have them."
From Molly: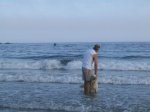 "Dear friends, I am writing to let you know that we put our dear, beloved Golden, Maggie to sleep last night. Her cancer returned recently and she became very sick very quickly. She would have been 12 on June 30th. She was a remarkable dog for our family, so full of love an compassion. She was also a miracle dog, surviving two rounds of cancer and living with epilepsy. She just kept rebounding. Her passing was incredibly peaceful. I held her head in my arms and told her how loved she was, and when it was over the bells in the West Congregational Church next door to the vets chimed."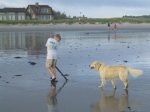 "I picked up Maggie's ashes today at Animal General. BOY THAT WAS HARD!! What really hit me like a ton of bricks was the paw print they did of Maggie after she died, set in a circle of plaster. I wasn't expecting it and seeing it released the flood gates. I'll treasure it. I've therefore spent many moments today remembering even more things about Mags. We wanted to thank you for the beautiful card you sent us after our Maggie died. We miss her so much, but are enjoying knowing we had her for almost 12 years, against so many odds.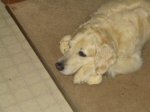 From Yalda,
"I am not a former client of yours, but I hope you don't mind if I still drop you a note to say how much I appreciate the wonderful work you are doing. I recently moved away from home (and consequently, from my precious Golden named Lucy), and I was looking at pictures of golden retrievers online (just having a nostalgic moment) and I ran across your website. I must say it thrills me to see such caring breeders who are devoted to the health and happiness of their dogs. And your close relationships to your clients is truly amazing. I am a young attorney who works unbelievable hours, so I am not a good candidate for having a golden retriever at this point in my life. But when I have children someday, a golden is a must! I cannot wait to watch them grow side by side, as you watch your goldens grow up alongside the neighborhood children."
"Please, please keep up the great work! You are adding an invaluable amount of love to so many families. I really feel that you don't know love until you have seen it in the face of a golden retriever smiling up at you. Thank you for the opportunity to send you a message."
It has been said that we cannot know the time or manner of our death. But we can choose how to live. Golden Retrievers as a breed have somehow incorporated that essence of living into their DNA structure. Would that we as the supposed more advanced civilization had gotten that right. I will leave you with two photos that my friend Cindy recently sent of her Katie and cat. They give living testimony to the blessings and love a Golden brings to your life.
---