May 6th, 2008 by Mike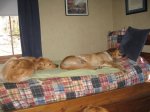 Napping is one of those restorative moments that is best shared with your dog(s). With five here, I have to rotate who is going to cuddle closest with me on the bed. The others then find their place around me.
And of course, I can't always nap when they do, but I jealously look over and see what I should be doing with them, instead of whatever chore has me at the desk or in the kitchen.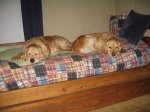 Lucy, our youngest, has her favorite chair by the window. She alerts us by barking if anyone approaches our home. When the area is secure, she nods off until some other noise rouses her again.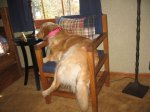 Barb and I keep hoping for the start of Emma or Riley's heat, but there has been no sign of that in either one yet. They just live in the moment and are always content, even if it is just another nap on the day's agenda.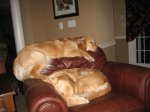 ---