April 19th, 2008 by Mike
The rainy days in March have passed onto drier conditions. Hopefully the mud season we went through on our runs at the High School is now over. On those wet mornings in March, the dogs quickly became reacquainted with their favorite puddles of standing water.
Mud intermixed with their shedding winter coats always makes for lots of extra cleaning work. Not Barbara's favorite time by far.
On a sunny day in April though, there is a Spring rite of passage here when the pool cover finally comes off. The dogs enjoy sniffing the tepid water and look for any poor little animals who had the misfortune to find their way underneath the pool cover over the winter.
The girls love to watch when real work is involved. Sitting in a group as usual, they kept quiet watch while Barb and I wrestled with the pool cover.
Out in the front yard, they were less than helpful, and decided to make a game out of the pool cover cleaning.
In order to finish our work, we ultimately had to put them inside, where they watched with great yearning along with our cat.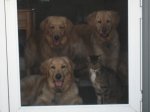 This endearing quality of wanting to share every moment with you is a classic Golden Retriever characteristic. Another, is making an adventure out of every possible daily activity. We all finished the afternoon very tired but content.
---