March 2nd, 2008 by Mike
While searching for something in "My Documents" file, I came across a folder that I hadn't peeked into for years. This folder contained an internet poem, author unknown, that someone had sent me back in 2000. Back then I had changed it, added some verses, and sent it out to our clients who were on our email puppy list.
I thought to revise it again and add some recent appropriate photos. It really speaks to the mindset you develop as a breeder and member of a multiple dog household. I am not sure if we don't become more than a little eccentric living the way we do. Our children, I'm sure, would certainly agree.
For Love of Goldens…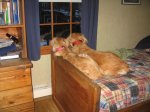 Why be cautious about owning a Golden Retriever? There's a danger you know. You can't own just one, for the craving will grow.
There's no doubt they're addictive, and therein lies the danger. While living with many you'll grow poorer and stranger.
One dog is no trouble, and two are so funny. The third one is easy, the fourth one's a honey.
The fifth is delightful and the sixth one's a breeze. You'll find you can live with a houseful with ease.
As dogs they are beautiful, smart, and oh so nice. And whatever you paid, they're a bargain for the price.
So how about another? Would you really dare? They're really quite easy, but Oh Lord, all the hair.
With dogs on the sofa and dogs on the bed, and crates in the kitchen, "No Bother" You've said.
"They're really no trouble, their manners are great. What's just one more dog and just one more crate".
The sofa is hairy, the windows are crusty, the floor is all footprints, the furniture's dusty.
The housekeeping suffers, but what do you care? Who minds a few nose prints, and a little more hair?
Although their colors can vary all over the chart, Goldens are blessed with the same big loyal heart.
Their needs are so simple; love, companionship, a tennis ball, a stick. But the returns to us are immeasurable: friendship, loyalty, and from their tongues, warm licks.
With such big brown eyes and a warm wet nose, you'll scarcely notice all the hair covering your clothes.
Who can resist such energy, playfulness, and need for cuddling. And it's hard to be stern though their wet coat may be dripping and puddling.
So no matter a tail just shattered your favorite vase on the table. One look with those innocent eyes will your anger disable.
So let's keep another puppy, you can always find room. And just add a little more time for the dust cloth and broom.
There's hardly a limit to the Goldens you can add. And the thought of stopping makes you terribly sad.
Each one is special, so cuddly, so funny. But there are big vet bills and food bills, and now you owe money.
Your folks never visit, few friends come to stay. Except other dog folks who live the same way.
Your lawn is full of holes and your shrubs are dead too, but your weekends are so busy: you are off with your crew.
There's dog food and vitamins and training and shots, and show entries and motels, all which cost lots.
Is it worth it you wonder? Are you caught in a trap? Then your favorite golden comes and jumps up on your lap.
Her look says you're special, and you know that you will, keep all of the Goldens, in spite of the bill.
For life is but a short journey to be savored with pride. And everything is more vivid, more special, with a Golden Retriever by your side.
So enjoy your old pup until word of our next litter leaks. Then you will be on the phone calling, saying another golden you seek.
And with my own crew gathered all around me as I take your anxious call, I will smile and be surprised.. Not at all.
The End.
As I try to type the finishing touches of this blog, the girls are on the right and left of me. Normally I have one hand to type and mouse, while the other scratches someone's head.
Tonight everyone wants a piece of me. Time to get out some buffalo bones so everyone will be content…
---