February 14th, 2008 by Mike
Today broke cold, crisp, and clear. The initial snow storm from yesterday was overwhelmed by the deluge of rain that followed. So the land today was like a big cake covered with a thick layer of glazed sugar.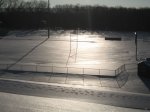 Trackless, slippery, and hard, the going was a little tough on the hills. It seems that here in New England, every storm is unique with a different combination of cold, wind, snow, rain, and ice. So each adventure out with the dogs is a different experience also. Getting to the high school fields this morning posed some difficulty. There was black ice on the roads everywhere, and due to a surge in numbers of baby squirrels running around, I had to let the leashes go several times. Otherwise I would have been pulled down the road to suffer an ungraceful fall.
Once we got to the fields, the surface was so slippery the dogs had to work twice as hard to get anywhere, since even their clawed paws didn't do much to the hard surface.
They burned off their energy and then we started back. Despite the ice, we heard the cry of a few birds and saw a couple flights of ducks making their way back North. So Spring is trying to reinsert itself a little here in the middle of February. And what better way to agree, is to report that our year plus Lucy has started her first heat. An official young lady now, she still has to wait another year before we can finish her breeding qualifications. In the bottom right photo, she is on the right with her mom, Emma on the left.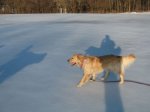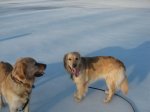 This promise of further adventures with puppies, and another generation getting started, warmed my spirit all the way home.
---