January 3rd, 2008 by Mike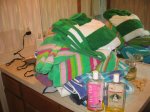 I thought it would be appropriate to start the New Year with a story of a recent bathing adventure. You know the New Year still being a clean slate and all. Amazingly we don't have to give our girls baths very often. Despite the mud, dead material, and dirt that they continually get covered with on our runs, their thick over and under coat allows pretty much everything to stay on the surface. Like the comic Charlie Brown, where "pig pen" leaves a pile of dirt wherever he sits, we sweep up collections of all kinds of dirt when they crash on the kitchen floor after our outside runs.
Still for those in the know, the smell of a new puppy is amazing, and a freshly shampooed dog is a close second. With five Goldens, the cost of a professional cleaning is costly, and even a short visit to the kennel for a group bath can leave the pack open to a case of kennel cough, as we have previously found out. So, on a recent Saturday, we decided to have our girls look a little more glamorous for the holidays.
Here are some photo shots of the girls in all their soggy glory.
Lily:
Emma:
Riley:
Solo:
Lucy:
When they are wet, they look much more similar than different. I can't say that they liked the experience, but they didn't seem to find it much of a hardship either. We certainly went through a bunch of bath towels trying to dry them.
Afterwards, they gathered in the kitchen while we let them dry completely.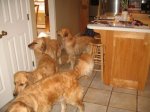 Of course after being well behaved during their baths and now looking and smelling great, like any young lady, they were expecting to be taken someplace to go and show off..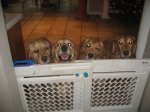 I decided a ride in the dog van was just the thing while I ran some errands.
---