December 1st, 2007 by Mike
Keeping our dogs well exercised maintains their good health and mostly calm dispositions. Another important part of their preventive care that might be less obvious involves having quality chewing material available. If you give them large bones periodically, their teeth do not require cleaning very often. This is also another way to keep them very occupied for hours when you need some quiet time to get other tasks accomplished.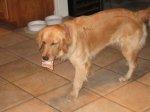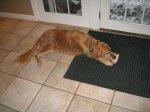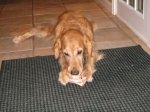 .
Barb and I tend to alternate between white antelope antlers (you can order them at www.petexpertise.com on the West Coast) and raw buffalo bones (through our friend and dog food supplier Donna Talbot of Collegiate Canines).
In a multiple dog household you do have to be careful that everyone has a bone of roughly the same size. Jealousy is not limited to us humans, and a dog fight will quickly erupt if every four footed member is not satisfied with their portion.
We had excellent news from the Cape today. Berna told us that Emma's progesterone level finally climbed to over 4 on Friday. She was very receptive to Mulder her beau this morning, and a natural breeding occurred without difficulty. The breeding will be repeated Sunday or Monday, and then I expect to drive to the Cape after my 24 hour call on Monday and bring her home Tuesday. In four weeks we will do an ultrasound and hope that we see some new life. If this breeding is successful, Emma will be due in early February.
.
Although it will have cost us almost 1300$ on blood tests alone, (never mind the stud fee, and Berna's costs), we would definitely have missed her ovulation without them. Last year she ovulated on day 13, this year it was day 22. Barb and I learn more every day about the quirks of breeding Golden Retrievers.
---