October 26th, 2007 by Mike
A few weekends ago, we had our annual neighborhood men's retreat at our home in Vermont. We used to play golf and fill the weekend with multiple activities. Now we all just look forward to enjoying the solitude and catching up on rest and each other's lives. A sure sign we are getting older.
.
Three years ago at one of these get away weekends we had raised our Vermont home sign with the help and input of everyone visiting. The harsh winters took their toll however, and despite the multiple coats of marine varnish, the dogs came down this past summer for a makeover. We are blessed to have had the skills of Andy Baron, friend and neighborhood artist extraordinaire. He repainted everything and then we set about adjusting the sign to withstand the frigid winds and snow that will soon be visiting that area.
That area of mountaintop has special significance to me as that is where Abby's ashes are scattered along with the remains of our beloved Molly. It is on that mountainside and rocky slope that I conceived "Abby's Message", the poem that graces our website. This is a wonderful spot for quiet contemplation.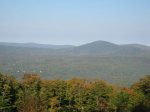 ---