October 15th, 2007 by Mike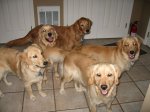 With our dog family here being so young in age, extra energy is always in abundance. And the girls have gotten very good at teaming together and distracting me enough that a run is a necessity even when I've just gotten home after a 24 hour call shift. If I can't reduce that energy, then some destructive behavior is usually the result, especially with Solo and Lucy. So off we go and a good time is had by all once we are all out in the open.
Now that we have been going on these runs regularly, the dogs are in very good shape. Riley is still a little chunky, but we are working on that. The energy required to keep everyone on leash and behaved until we get to the high school, and then be sure they stay out of trouble off leash on the fields is quite demanding. When holding all five on leash, they outweigh me in total by about 150 pounds. They are usually quite civilized, but occasionally group think seems to rule about a particularly close squirrel or other possible treat and then the going gets a little tougher.
I noticed today that despite five quick miles for the dogs, they came home with the same amount of energy that they left with. That means they want to go further, and that is not a good thing for me or my aging body!
.
The weather until this week has been unseasonably warm, so everyone works up quite a thirst. The kitchen tile is cool to come home to, and it doesn't take long for everyone to stretch out around the water bowls and start to relax.
Coming home, if nothing pressing is on the agenda, a short nap is just what everyone needs. If anyone has ever had a dog on their bed or cuddled their pet, you know how relaxing that can be. Of course when you have five big dogs that want to rest with you, there are some unusual configurations that result. Twenty paws, five tails, and five noses all must find a comfortable spot.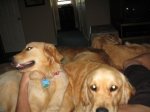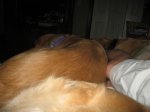 With over three hundred pounds of fur next to you, a blanket is certainly not needed. It takes about five minutes for everyone to find their space. Jockeying and jealousy occasionally happens. Each dog must be in contact with some part of your body before everyone settles down. For the dogs I think this brings back memories of the cuddling that went on in the whelping box as pups. Then the rise and fall of everyone's breathing becomes a relaxing background noise that is unlike anything else I've found. Once everyone drifts off, the only interruption is the occasional short bark or growl with someone having a particularly vivid dream. I recommend this experience highly, although realistically who lets five dogs sleep on their bed? Only here in dogville with us crazies I imagine. Still I would add this to the list of the 101 things you must do before you die if you are a golden lover.
.
PS: Berna of Pebwin Goldens of Cape Cod has again so generously and graciously agreed to let me take her GRCA 2007 Golden Retriever Dog of the Year, Mulder, for Emma's insemination when she comes into heat. The only conflict would be if he is already has an engagement with someone else at the same time. So while we wait to find out about Riley, we are still looking forward with further plans. Of course this would mean another marathon trip to the Cape of back to back eight hour segments. A small price to pay though for the very rare opportunity to use a sire of this unmatched quality.
PPS: Congratulations to those who contacted Cindy Jones of Goldenjoy kennels regarding a female pup after the recent blog posting. Some excited folks will be taking home a new puppy in the not too distant future!
---