October 11th, 2007 by Mike
It was a very busy weekend trying to successfully achieve a good breeding for our Riley. Kudos to Cindy Jones of her Goldenjoy Kennels in Killingworth, CT., and my Barbara for all the time, driving, and stress involved in keeping the dogs safe and comfortable. "Natural breeding" is not at all like the romantic view portrayed in the movies like in "101 Dalmations". It is a hot, sweaty, time consuming, and exhausting process for all involved. In comparing this past weekend with what happened with my efforts with Emma and Mulder a year ago at the Suffield Vet Clinic and their artificial insemination, I would say we are definitely leaning now toward doing things in the future the scientific way. Like in horse breeding, there is just too much left to chance, and too much of a danger to the animals to depend on the natural way. (My opinion, of course!). And since this is a blog read by young people, I will just say that the scientific way is similar to the natural in most regards, except that it is done in controlled circumstances with the help of a doctor.
Here is Riley today during her five mile run. Dirty, and wet equals one happy golden retreiver, and you can see just how happy she is despite the drizzle.
Still we won't know if we have any puppies on board for about three + weeks.
I think I may have mentioned before that Cindy sold us our first golden retriever over twentyfive years ago. Our "Peaches" was a special friend to our children who were little then. Cindy's facilities for her dogs are amazing. Here are a few photos taken of her indoor kennels with Barb and her husband Richard.
Cindy was off with one of her dogs doing agility training, so I can't share her photo with you.
She has a beautiful litter at the moment of 7 females by her "Chloe". The photo attached does not do Chloe justice. She is much lighter and prettier in person. And the pups are gorgeous.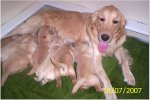 Cindy told me that not all the young girls are spoken for. So for those on the list who are getting impatient and want a female, I invite you to email her at "[email protected]" or call her at 860-663-2953. We are certainly praying for a successful breeding with Riley, but with our recent difficulties with Solo, I want to give you all a chance for a quality puppy now.
---