September 27th, 2007 by Mike
Yesterday Barb and I went to visit our friend and co-breeder, Donna's litter of pups. The twelve pups are a week old and doing great. Ebby the mom is Riley's sister, and Riley will be bred to the same sire, Rudder, as soon as she is ready to ovulate.
It was great fun to sit around the whelping box and listen to the puppies squeaking. Nothing more relaxing than that to help forget about your worldly problems for an hour or so.
We are hoping that the Golden Retriever God will look favorably on our upcoming breeding and bless us with pups of our own about mid December.
As for our very patient clients, sorry, but Donna's pups are all spoken for. The higher your breeding standards are, the more popular you become, and the longer the wait becomes to get that special pup.
And speaking of standards, Mulder, the sire of our Emma's last litter, just won the 2007 Golden Retriever Club Nationals this past weekend.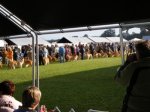 So in addition to his Westminster Best of Breed title of 2004, his stock continues to rise. And to think his owner Berna let me take him for an afternoon about a year ago at this time to work with our infertility vet to help Emma conceive. That will always be a special memory for me. And that is one special dog! And thank you again Barb for relenting and letting us keep Lucy, one of his offspring from our last litter!!
---