September 11th, 2007 by Mike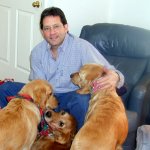 Hi everyone. It is hard to believe our website just celebrated its first year anniversary. While we have had only one litter in all that time, we have made many new friends and have had exciting adventures that were only a daydream at this time last year. With well over 100 blogs and hundreds more photos uploaded, I have been blessed to be able to share our sunny times here in dogville side by side with the darker ones.
It is good to stop and take stock once in a while of where you've been and where you hope to be. While our present breeding plans have been somewhat thwarted by mother nature at the moment, I am very proud of the many golden friends we have made this past year in our little community here. And at the end of the day isn't that only what matters anyway.
So as a tribute to all my family, neighbors, and clients, and especially my Barbara, who puts up mightily with my never sated love of these goldens, I have been working on something special to memorialize this occasion.
For the past several months I have searched all our photos on different computers, albums, and saved CD's, looking for the folks who have taken home a puppy or just came to visit a litter. I then handed them over to Celeste and Dana Rockel and their associate Karen, my amazing website team, to create something fun and memorable. We took a photo of two of our pups from the last litter and made a composite poster with all the folks I would like to acknowledge. Young, old, experienced golden owners or not, each photo represents a snapshot in time where smiles were wide, laughter was loud, and a communion of golden goodness and love was enjoyed. If I missed anyone, I apologize. I am still looking for a missing album or two.
So click on the link below when you have some quiet time and share with me the memories that many of you readers are responsible for creating. I look forward to another fulfilling year living alongside our golden family, with hopefully many more puppies to convert families into golden lovers.
Thank you for your continued interest in our goldens here. And thank you again Barb for all you put up with!
Click on this link to view "Golden Friends".
PS: It has come to my attention that many readers are not aware that all the photos in this blog are "clickable". To appreciate the beauty, grace, and loving attitudes of all our goldens, you really have to see them in the larger size photo. So be sure to "click" and enjoy. Try the photo above and you will clearly see what I mean.
---