September 6th, 2007 by Mike
Our website, and more specifically the poem, "Abby's Message", that I wrote after our beloved Abby's passing, has attracted the attention of folks from all over the country. The universal themes of love and loss that we share with other owners of this wonderful breed, allow us to bond with people over long distances and forge a kinship of empathy with one another.
Two months ago, I received an e-mail from Milly in Los Angeles County, California. She had just lost her 14 year old Golden named Rusty.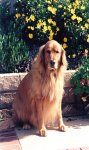 She and her husband were devastated, and were unsure if they could withstand another loss of that nature. I said what I could, and just encouraged patience and and the passage of time for their future choices to become clearer.
I was happily surprised to receive a note this week from her, along with pictures of their new golden puppy. Dusty is his name and everyone is doing great.
So like the night follows dawn, the sun will rise again after the dark runs its course. And new beginnings help chase away the sadness of the endings that we face on a daily basis.
Congratulations, Milly, on your new family member! We wish you all many years of good health and golden adventures.
---