August 14th, 2007 by Mike

Last week I wrote about our neighborhood losing "Maggie". (Neighborhood Tragedy).
Our friend and neighbor Lynda wrote back: "Hi Mike. The words you wrote about Maggie touched our family. They prompted Max to write down his feelings which I would like to share with you. Julia wrote a little something too. Thanks again for all your help and support."
So here is a tribute to Maggie written by the children who loved her, with some of their favorite photos.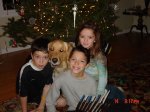 By giving voice to our grief, we somehow move forward, yet can savor those special times that will forever be etched in the glass walls of our memory.
Max and Ben:
Maggie was the friendliest, kindest and loving dog a family could possibly wish for. I remember the day we brought Maggie home a little over five years ago with her orange collar and her energetic spirit. From that day on Maggie was loved so much and always enjoyed life. She lived every minute up to the moment she died with the same happiness and energy. I will miss every little thing Maggie used to do. I will miss the way she would sit with her back legs spread apart. I will miss the way she would tell us when she wanted to come in and out by knocking on the glass front and back doors. I will miss the way she would play in our outdoor activities, whether it was soccer, basketball, or baseball. She would always get excited to play with us. I will miss the way she would lay with us on the floor and watch a movie on family movie night. I will miss sitting with her in "her" leather chair in the family room. I will miss everything about Maggie, from the way she used to squint at us as we walked up the hill to our house, to the way she used sleep on the bottom of the stairs waiting for us to come down and play with her. I will miss throwing the tennis ball and frisbee to her. But most of all, I will miss the way she loved us, how sweet she was to everyone, and the way she made me happy every day of my life. We may get another dog but it is impossible to take the place of Maggie. Maggie will always be in my heart.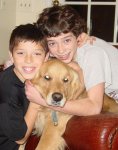 Julia:
My Dog Maggie. Maggie was my friend who liked playing paw, playing ball, and going for walks around the neighborhood. Me and my dad would take her swimming in the river and she had so much fun! We would throw a stick and she would start to get it but then forget to bring it back to us. This made me and my dad laugh. Maggie wasn't a great retriever but was the best Golden Retriever. I loved her and I will never forget her. Love Julia.
I was there at her end, and I walked by her home for five years with my own goldens in tow. She never failed to greet us on our walks up her street. I will always remember her however, as the precocious Miss Orange collar from her litter days. I can still clearly remember that special day when her whole family walked up the street to take her home.
Maggie you gave love, and were well loved in return. You are sorely missed, but you have given your family memories that would make your mother Abby proud. I hope you both are sharing happy moments on the other side of the rainbow bridge.
---