August 6th, 2007 by Mike
August is well underway here and we just finished a week in the 90 plus degree range. Coming home from even a 6 AM run leaves the dogs warm and panting. With our abbreviated seasons in New England there is a smell in the air that fall will be rearing its head soon enough. So recently, when I had a day off, I spent the early morning letting the girls cool off in the backyard pool.
Solo is the waterbug, Riley likes to only get her feet wet, while Emma walks back and forth on the steps around the hot tub.
Lily just likes to soak up the sun's warm rays while she watches everyone else having fun. Lucy the pup is still nervous about the water, and stays inside where it is cool.
Riley has made up this game where she takes her ball and drops it in the deep water. Solo then retrieves it and brings it back to her. Riley picks it up and puts it in the deep end where Solo then swims for it. This goes on over and over, and each seems to love their part.
After the swimming is done, the dogs move to have an early morning snack. This consists of chewing the grasses in some of the bigger pots.
I think Solo's smiley expression in the photo below sums up the start of this summer day. "Only 8 AM and look at all the fun we've had already".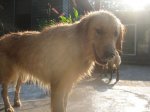 ---