June 3rd, 2007 by Mike
My summer schedule at home now goes something like this… Up at 5 AM with the dogs. Breakfast for them, and then an hour of garden chores for me to let them digest their food. Then if my work schedule allows, we are off to the fields. It is still a little dark when I come downstairs. They are all there at the gate impatiently awaiting the words "let's walk". The yellow light reflecting from their eyes is kind of spooky and other worldly. Five "Cujo" look alikes if I didn't know them better.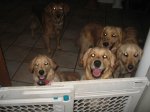 The silence in the kitchen then erupts into howls and barks and growls, and the energy level rockets skyward with their excitement. They have seen that I have my running clothes on.
So we arrive at the high school fields once again. With this summerlike heat blanketing us, the mudholes have thankfully dried up.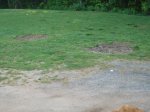 However Riley was the first to find some dusty part of the field and enjoyed a dry dirt bath.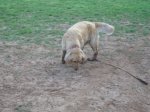 I thought the wet muddy dog scene was over for awhile. I was mistaken. Running and searching all over the fields, the girls found an irrigation cover that always has a puddle of clear cool water. Now it has become their community water hole on their adventures.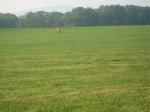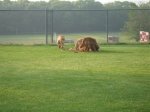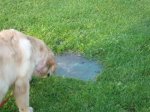 This does save me from having to bring water along on our runs as the weather heats up.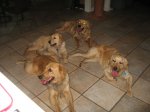 Home again, peace prevails as they lie contented and tired, while my day now really begins.
---