May 24th, 2007 by Mike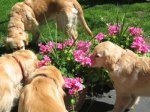 Nothing like the combination of a warm sunny day, colorful flowers, a pile of dirt, and my always present, four footed friends to bring me back to a state of inner peace. I filled the dog van with our usual order of annuals and perenials from Leonard's Farm in East Hartford. At first the dogs weren't too interested in what was happening. They just wandered about the yard and took in the interesting smells.
The heat from the sun quickly warmed those thick golden coats, and cold water drinks were enjoyed by all. No fancy bottled water for these country girls.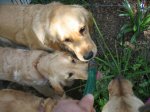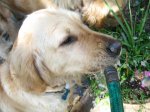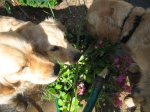 When I brought the flats of flowers out of the garage, things got interesting. I guess if you are a dog, flowers are more than just good looking objects. They are also very tasty. So next thing I know they are fighting over the containers to see who could get the biggest share for a tasty garden salad.
Order was slowly restored and the impatients and geraniums went into the ground. I put up double fences to keep the big dogs and pup out of the beds. But like the long nosed horse that manages to reach that patch of grass just out of reach, when my back was turned, plugs of flowers near the borders just disappeared from their holes. No one would admit to anything but the dirty nose gave her away. Yep our sweet little Lucy.
When the planting was done, the dogs all gathered for a little rest on the front patio.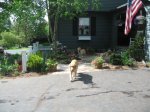 Sitting on the rocker on the front porch with the girls keeping a protective watch out for trouble, I was at peace.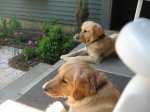 What an amazing contrast between the two prior days in my life. As the old adage goes, without the thunderstorms we wouldn't appreciate the rainbows. And this was certainly a rainbow day!
---