April 30th, 2007 by Mike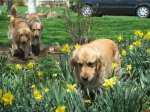 Back home from another 24 hour shift, I took my golden friends to the high school grounds again. I wasn't looking forward to another mud adventure, so I was pleasantly surprised to find that everything had dried out since I had been there 48 hours ago. Everyone got to burn off some of their boundless energy and then walk home in civilized fashion.
The sun burst forth shortly thereafter so some flower bed chores became doable. Since our girls are my constant shadows, they kept me company. They ate their share of flowers and grass, but aren't yet trained to distinguish the good from the bad.
With this being the final day of April, the promise of May flowers and stronger sunshine is almost here. Lucy the pup followed the trail of the bigger dogs, taking in all the unfamiliar new smells and colors.
As far as our breeding plans go, Mother Nature has forced a change. Riley is all set to be bred with her next heat to Rudder, the gorgeous male in the blog a few posts back.
However, I was expecting that Solo would not be in heat again until after her second birthday in June. We were surprised to find that she has come into season a little early. So this will force her breeding heat to follow this one since she can't get her OFA clearance until her birthday in June. So for everyone waiting for our second litter from now, this will mean probably no pups on the ground until fall at the earliest. Being an obstetrician I am used to the unpredictability of mother nature. However, I can understand the frustration farmers must feel when their livelihoods are so dependent on events beyond their control. We ourselves are only passengers on this wild ride called life, though we sometimes delude ourselves into thinking we are directing events.
Here is Solo standing with her mom Emma, our five year old. Emma still hasn't regrown her coat yet from having her pups four months ago.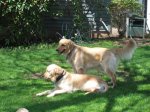 ---